You are on the UK Corporate Website.
Click here
to switch to the US website.
100mm | 4" - (Square) Reflex Prime End-of-Arm/Face-out Sign Holder Open 1 Side with Standard Fitting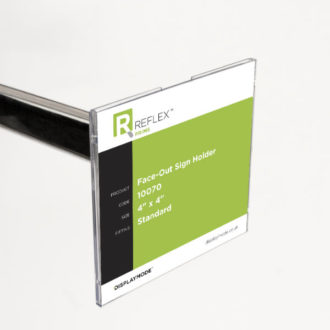 Product Description
Durable & reusable promotional sign holder with standard end-of-arm attachment. Uses our patented silicone rubber backing. Paper graphic simply inserts from the top.
Product Features
| | |
| --- | --- |
| Attachment Type | 7 |
| Orientation | Square (n/a) |
| Material | SAN |
| Process | Injection moulding |
| Graphic size | 100mm x 100mm | 4" x 4" |
| Graphic inserts | From the top only |
| Previous reference | EOA7 |
| Order Quantity | Unit | Pack 100 | Box 400 | Pallet 3600 |
| SKU | 10070 |